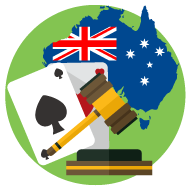 IS GAMBLING LEGAL IN AUSTRALIA 2023?
Gambling has always been popular in Australia, more so than in any other country of the Western world. In the past, Australian governments, as opposed to their colleagues in other countries, have actively encouraged all kinds of legal gambling. It is said that Australians gamble on everything and anything.
It has been reported that there was extensive betting on Victorian football matches in Australia before the First World War and that bookmakers were walking up and down in front of the grandstand giving odds on the game.
Historian David Kynaston stated that when cricket became popular in Australia, the "underlying purpose was as a vehicle for betting".
Horse racing and the betting on horses has always been popular too and despite policing and alterations to the gaming legislation, illegal off-course betting and illegal casino games were reported until at least the 1960s.