#1 Manage your bankroll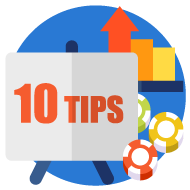 Before you even begin to think about online casino strategy, you need to understand the importance of bankroll management. It's a key element of playing successfully at online casinos in Australia and land-based casinos, too. Bankroll management is all about knowing how much you have and how much you can afford to risk. We recommend that you only bring 25% of your bankroll to the table or slots, and you only bet 2%-5% of your total bankroll per bet. So, if you have $500 sitting in your online casino account, bring no more than $125 to the table or slot machine. And then risk no more than $10-$25 per bet (we recommend the lower end of the scale).
#2 Limit when you play
One of the best Internet casino tips we can give you is to not play at all. No, we're not suggesting you forget about playing online casino games. They're fun. And you can win a lot of money when you use our guide to casinos online in Australia. But that doesn't mean you need to play 24 hours a day. It doesn't even mean you need to play an hour a day. After you figure out your bankroll, set a specific amount of time per week that you'll dedicate to playing online. It could be five hours. It could be 10. It could be anything. Then, make sure you don't play more than you planned.
#3 Understand the odds
Game odds vary from game to game and from bet to bet. For example, in online craps, some bets that seem the same actually pay out less favourably than comparable bets (Big 6 or 8 vs. betting on 6 or 8 in craps is a classic example of this). So, before you get into a game, develop your online casino strategy by reviewing house edges and player odds. You can find more information about gambling and casino odds here.
#4 Learn the game first
There's nothing more confusing than sitting down at a game and not knowing what to do. One of the most important tips we can offer is to understand the game you're about to play first. While this may seem like one of the most obvious Internet casino tips we can dole out, it's often one of the most ignored especially in games like online Blackjack. Many online casino players think they know when to split a hand, but they make the mistake of splitting hands they shouldn't. Learning the game will make you a better player and allow you to play smarter and win more.
#5 Take advantage of bonuses
Every online casino in our Internet casino guide offers a special bonus on your first deposit. You'll earn it by signing up through one of our links on our Australia casino review pages. The bonus is available to new players, so make sure you take advantage of it. If you plan to play real money online casino games, it could lead to hundreds of dollars in free money, so don't turn it down.
#6 Read the fine print
With the Australia online casino bonuses come some fine print. Not all bonuses apply to all games. Some have caps on the amount you can deposit. And many online casino bonuses require you to play a certain amount in order to convert your bonus into real money. Make sure you know what you're getting into before you take advantage of a casino bonus. You can access the terms and conditions by clicking the links for each casino in our Internet casino guide.
#7 Play for free first
Want tips for online casinos that guarantee you won't lose money? Here's a big one. Play for free. Every single one of the sites recommended in our online casino strategy guide allows you to play for free without having to make a deposit. Just sign up for a free account using the links provided in our guide to casinos online and you'll get access to free online casino games 24/7/365.
#8 Understand how randomness works
Every reputable online casino uses a random number generator to make sure that every shuffle, spin, and deal is completely random. Some online casino players get frustrated when they hit a losing streak and they do one of two things bet more to get their losses back or withdraw everything because they think the site is rigged. What you should do is calm down. Just like at a real casino, players hit winning streaks and losing streaks. That's just the way casino randomness works. And remember, every casino game has some sort of house edge. It's just a matter of knowing which bets to make and hoping you hit a nice streak.
#9 Play progressive jackpot slots properly
We've heard from way too many players who complain about never hitting a progressive jackpot even though they've played for months. While luck has a lot to do with it, so does playing by the rules. A lot of online casino players ignore one of the most important Internet casino tips, which says you should read the rules. Some online slots won't award you the jackpot if you haven't bet the max. Make sure you're playing by the rules to increase your chances of hitting it.
#10 Play at a regulated casino
There are some online casinos in Australia that aren't actually built for Australian players. We recommend only playing at casinos with dedicated Australian casino teams who care about the Australian market. Use our guide to casinos online to find an Aussie-friendly casino that's regulated by international gaming authorities.